Welcome to Queen of Tea!
If you love tea as much as I do you've definitely come to the right place!
I provide a variety of tea related services like throwing tea parties for baby showers, bridal showers, and adult and kids birthdays! If you can think of it, we can make it happen!
If you're more interested in tea knowledge and education, I can help you out there as well. Introduction to tea, tea and chocolate pairings, event planning and menu design… you name it I've dabbled in it, and I am eager to expand my repertoire!
I love to create original tea blends, which is a lot harder than you'd think! I'm always experimenting with different tea varieties and ingredients, trying to figure out what works and learning about what really does NOT go together!
Queen of Tea is based in Ottawa, Ontario & is owned and operated by Jessica Hughes, a Certified TAC TEA SOMMELIER™/℠.
Jessica has been working in the tea industry since 2013 and is a graduate from Carleton University with a degree in Sociology. She is also a graduate of the Algonquin College Tea Sommelier, and Business Management and Entrepreneurship programs, with twelve years experience working in small business.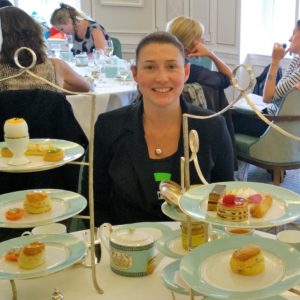 Jessica is an avid tea drinker who has been learning about and enjoying the beverage from a young age. Late night tea and gossip sessions with her mom are what started to fuel her passion for tea, and aimed her in the direction of tea education. Being a 'yes' person with the ability to see things through is what started her on the path to owning her own tea business as she realized that helping friends with events was an opportunity she could dive into.
Jessica offers a variety of tea related services and is always on the lookout for new tea ideas and educational opportunities.
Thanks for visiting the site, I hope you enjoy the adventure!