I have to say, I'd heard of Steampunk before but I didn't really know that much about it. I have a cousin who's very interested in it, so when I had a chance a few weeks ago to sit in on an "Introduction to Steampunk" lecture at Ottawa Comiccon, I took it! I was inspired by all of the interesting facts and did a little more research over the following weeks. Let me tell you, after what I've stumbled across I think I'm definitely going to be heading out to some of the Ottawa Steampunk events. It turns out that steampunk and tea go hand in hand, who knew (though, really, it's not that surprising)? There are so many interesting articles to read and items you can buy or make to 'tea up' your steampunk outfit; personally, I think I'm going to have to invest in one one of these bad boys! I mean how practical, and fashionable is this leather tea cup holder?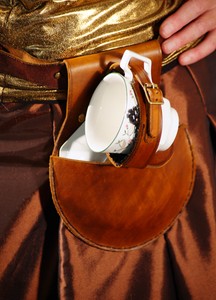 There are also some very interesting steampunk rituals involving tea. For example Tea Duels are totally a thing, and  one day I aspire to be the best Tiffin Mistress in the Ottawa area! Because seriously, who doesn't want this hat? (Okay, I'll do it for bragging rights, but the hat would be a bonus!)
The steampunk tea culture is definitely a place I'd like to be,  and I've been inspired to try to make a Queen of Tea tailored Steampunk-themed tea blend. The creativity that goes hand in hand with the entire steampunk culture is certainly rubbing off on me! Having done a bit more digging, I really hope that The Geeky Hostess starts selling these steampunk sprinkles again so I can start adding them to some tea blends!
In the meantime I'll be hunting down some gold and bronze coloured dragees, quins, edible glitter and decorating mist from the local baking supply shops to see what I can do! I'll definitely be using a a strong black tea as my base, as would be fitting for the Victorian era.  I would love it if any of you steampunks could offer suggestions for ingredients and themes in the comments; I'll keep you up to date as I tinker with my teas!
Any local tea things you'd like reviewed? Flip me an email!